This week we are meeting up again to run together an prepare for the Haspa Marathon Hamburg in April!
Meet us the Alster Cliff coffee shop at 9.45 AM this Sunday, 17 January – starting from there we'll be running two loops around the Außenalster (all together about 15 kilometers).
Our partner Mizuno will be there starting from 9.00 AM and offer you to test out the brand's most recent running shoes. Dextro Energy will be providing sports drinks and keep you fueled for practice. The Laufwerk coaches will guide you through the run – it's a great opportunity to get to know your marathon pacers!
Runners who join many of our group training runs will be rewarded! So don't forget to bring your punch card from last time or start a new one on Sunday!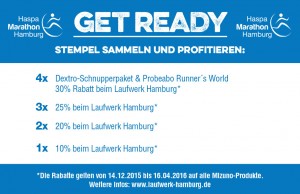 For more info, visit our Facebook page!
What you need to know about 2nd group practice:
Date: 17. Januar 2016
Time: Meet-up 9.45 AM / Start 10.00 AM /Shoetesting 9.00 AM
Address: Außenalster / Alster Cliff / Fährdamm 13, 20148 Hamburg
The next runs will be on:
14. February 2016 at the Elbe
13. March 2016 in the Harburger Bergen
See you there!