Since registration opened on June 17th, over 1000 enthusiastic runners have registered for the 31st Haspa Marathon Hamburg.
Early registration has many benefits: above all, you have a fixed goal to work towards in training – and you can start planning your marathon weekend in Hamburg in advance. Additionally, you can save money on the entry fee, as the prices vary (from €65 to €99) depending on your date of entry. The earlier you register, the lower the fee.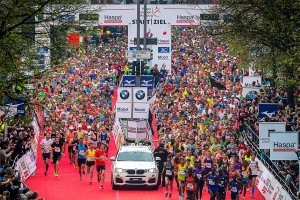 In case you should be uncertain whether you are ready to take on your marathon project and master the entire ditstance – why not share the 42,195 kilometers? The Lotto Hamburg Marathon Relay is a great opportunity to run in a team of 4 and split the distance with your friends. That way, you still have the chance to experience the fantastic marathon atmosphere in Hamburg!